Stalking in violation of a restraining order may be based on numerous telephone calls to victim from abroad
Posted On: Wednesday, January 15, 2014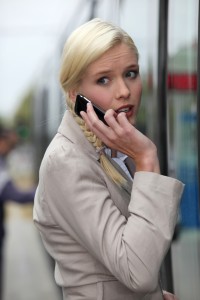 Stalking conviction upheld by Massachusetts Supreme Judicial Court today.
A defendant convicted of stalking his wife in violation of a G.L. c209A Restraining Order appealed his conviction, arguing that the judge's instruction to the jury misconstrued the legal definition of "stalking," and that under the correct definition, there was insufficient evidence of guilt beyond a reasonable doubt.  Today, the Court upheld the conviction.
Stalking  in violation of a Restraining Order involves 3 or more incidents of harassment.
This ruling presents an opportunity to discuss the crime of stalking in violation of a restraining order, set forth in G.L. c. 265, §43(a), (b), which states:
"(a ) Whoever (1) willfully and maliciously engages in a knowing pattern of conduct or series of acts over a period of time directed at a specific person which seriously alarms or annoys that person and would cause a reasonable person to suffer substantial emotional distress, and (2) makes a threat with the intent to place the person in imminent fear of death or bodily injury, shall be guilty of the crime of stalking and shall be punished…. Such conduct, acts or threats … shall include, but not be limited to, conduct, acts or threats conducted by mail or by use of a telephonic or telecommunication device including, but not limited to, electronic mail, internet communications and facsimile communications. [Emphasis added]
"(b ) Whoever commits the crime of stalking in violation of a … restraining … order … shall be punished…."
Telephone calls made by defendant in India to victim in Massachusetts placed victim in imminent fear of death or bodily injury.
The Court has held that the required "pattern" or "series" must consist of three or more incidents of harassment.  The defendant here claimed that allegedly threatening calls he made from India to the victim in Massachusetts should not be considered as part of the "pattern" because there was no imminent threat of physical harm to the victim due to geographical distance.  The Court disagreed, stating that the fear itself must be imminent, and not the threatened harm.
Threatening letters and telephone calls may place a victim in imminent fear of harm even without the risk of immediate physical harm.
In a number of cases, the Court has found that threatening letters may constitute stalking activity without the risk of immediate or imminent physical harm to the recipient.  The stalking activities included, in three such cases:
Multiple telephone calls and letters forwarded in violation of a restraining order; telephone threat communicated by jailed defendant to an intermediary for transmittal to victim;
More than forty letters through a ten-month period indicating surveillance of the victim and reflecting anger, harassment, and attempts to interfere with the victim's employment; and
Twenty-five mailings through an eight-month period indicating surveillance of, and hostility toward, the targeted individual.
Victim's fear was imminent, and had reasonable basis under the circumstances.
In today's ruling, the Court found that under the correct application of the statute, the jury could have found beyond a reasonable doubt a violation comprised of either (1) the numerous telephone calls launched by the defendant during a seven month period, or (2) those calls in combination with an in-person confrontation between the defendant and the victim. The evidence satisfied the "pattern" clause and the "threat" clause of § 43(a ), and the restraining order element of § 43(b ).  Moreover, the victim's "imminent fear" due to the telephone calls had a reasonable basis in the defendant's travel history, history of abusive conduct, motivation, and his knowledge of the victim's whereabouts in Massachusetts.
Commonwealth v. Gupta, No. 10-P-921, Middlesex, January 15, 2014.
Get help now.
If you are a victim of stalking or a restraining order violation, or in need of a restraining order, be sure to seek help.  You should avail yourself of a free consultation with a family law attorney.  Other sources of help include the domestic relations officer at your local  police station, and the victim witness advocate at your local court.
Thank you for reading this blog post.  Please submit any ideas you may have for blog topics to [email protected].
-Rhonda S. Boulé