Prenuptial Agreements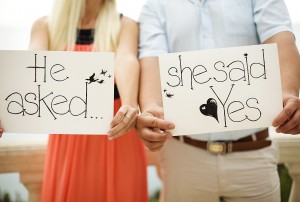 Prenuptial agreements — also called antenuptial agreements — are written contracts between two parties who plan to marry which set forth the property or other financial rights of the parties. Prenuptial agreements address issues such as ownership of assets, treatment of future income, and division of marital assets in the event of divorce.
Prenuptial agreements can be especially useful  if either or both prospective spouses have substantial assets, children from a prior marriage, potential inheritances, high incomes, or own a business.
If you think you may need a prenuptial agreement, or if you would like to have a proposed agreement reviewed on your behalf, contact Attorney Rhonda S. Boulé at 617/969-0400 or  [email protected].
Q&A (see Rhonda's profile on Avvo.com):
QUESTION: My father runs a company which he created years ago.  He runs it under my name and the income goes to my account.  I would like to ask what will happen if I get married to a woman.  Can she ask me for half of the money?  Do I need a Prenuptial  Agreement?
ANSWER: The short answer is that while a prenuptial agreement may not be romantic, a well-crafted agreement — which governs the assignment of property and marital rights in the event of divorce — will serve to safeguard your interest in the business, and ensure that your property is treated as
nearly as possible in the manner you choose.
Absent a carefully drafted agreement, the law (G.L. Ch. 208, Sec. 34) provides the Court in a divorce action with the authority to assign to either spouse all or any part of the estate of the other. A spouse's estate includes all property to which he or she holds title, however acquired. Therefore, the law gives the Court discretion to assign to one spouse property of the other spouse, whenever and however the property was acquired.
In determining whether a prenuptial agreement will be enforced, the Court
will assess whether:
each spouse had an opportunity to obtain his/her own lawyer prior to signing the agreement
any fraud or coercion existed in obtaining the agreement
all assets were fully disclosed by both spouses before the agreement was signed
each spouse knowingly waived the right to have a judge determine division of assets and marital rights in the event of divorce
the terms of the agreement are fair and reasonable at the time the agreement was signed, and at the time of divorce. When a prenuptial agreement is challenged, the burden of proving that these factors have been met falls on the spouse who poses the challenge
Thus the importance of a carefully drafted agreement is evident, and
assuming your interest in the business is or may be of value, I would
strongly suggest you retain a lawyer to draft your agreement.
FOLLOW UP QUESTION: So in case I make such a contract I mention exactly what property is under my name and what can go to whom. However, I cant understand the meaning of such an agreement if the judge may not enforce it after all.
FOLLOW UP ANSWER:  While no one can guarantee that a prenuptial agreement will be upheld, careful drafting with attention to the relevant factors, above, will help increase the likelihood that it will. The Court has ruled that prenuptial agreements should be upheld so long as such agreements are executed fairly and understandingly and are free from fraud, imposition, deception, or over-reaching (e.g., an agreement in which a spouse waives claims to substantial assets (such as your interest in your business) is not necessarily invalid, however an agreement which essentially strips a spouse of ALL marital interests will not likely be upheld.
Protect Your Future: Put 20 Years of Family Law Experience to Work for You.

Ferraro &  Boulé, Attorneys at Law: Experienced, Compassionate and Dedicated to Our Clients